Ginger Honey Nougat
A fresh nougat filled with spicy chunks of ginger!
Ingredients: almonds, honey (28%), sugar, crystalised ginger (ginger, cane sugar)(22%), glucose, egg white, white chocolate (sugar, cocoa butter, whole milk powder,emulsifier: soya lecithin, natural vanilla flavouring), full milk powder, natural ginger flavour, wafer paper (potato starch, vegetable oil).
Melita Honey Nougat is gluten free.
Regular price
Sale price
$7.00 USD
Unit price
per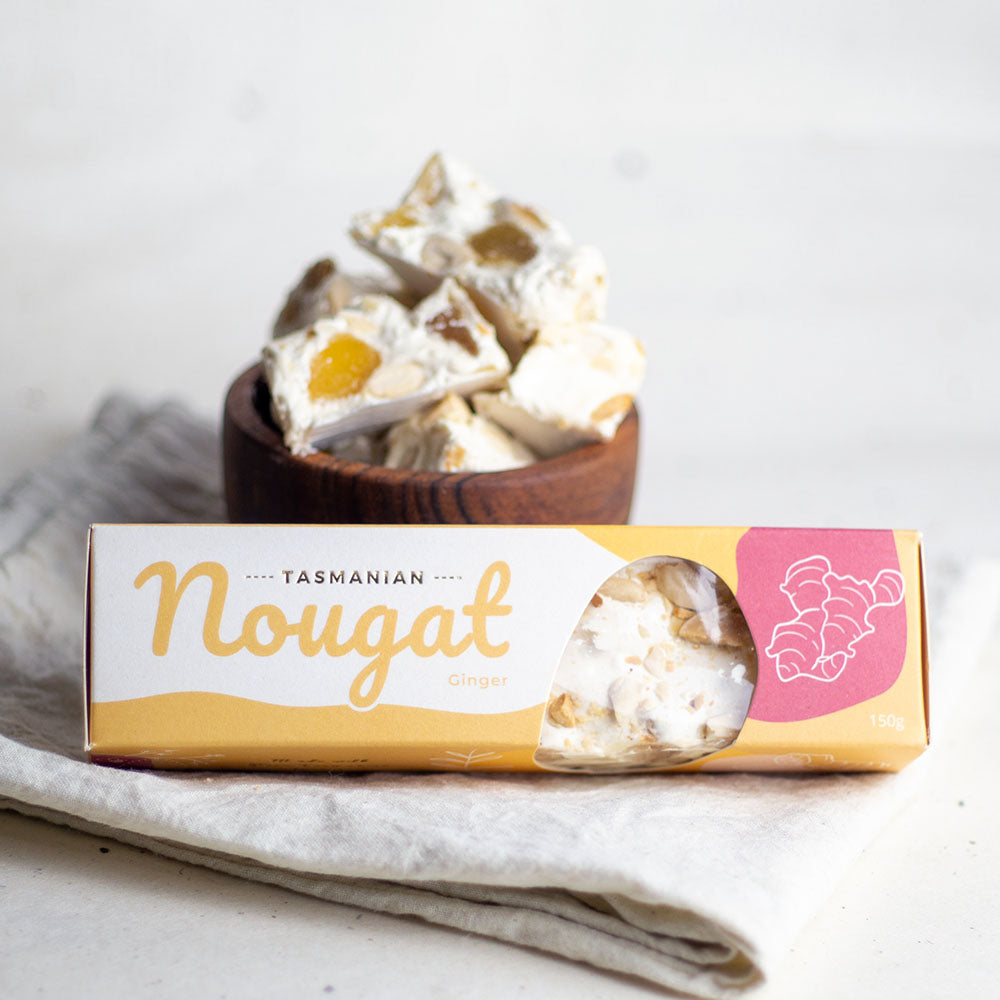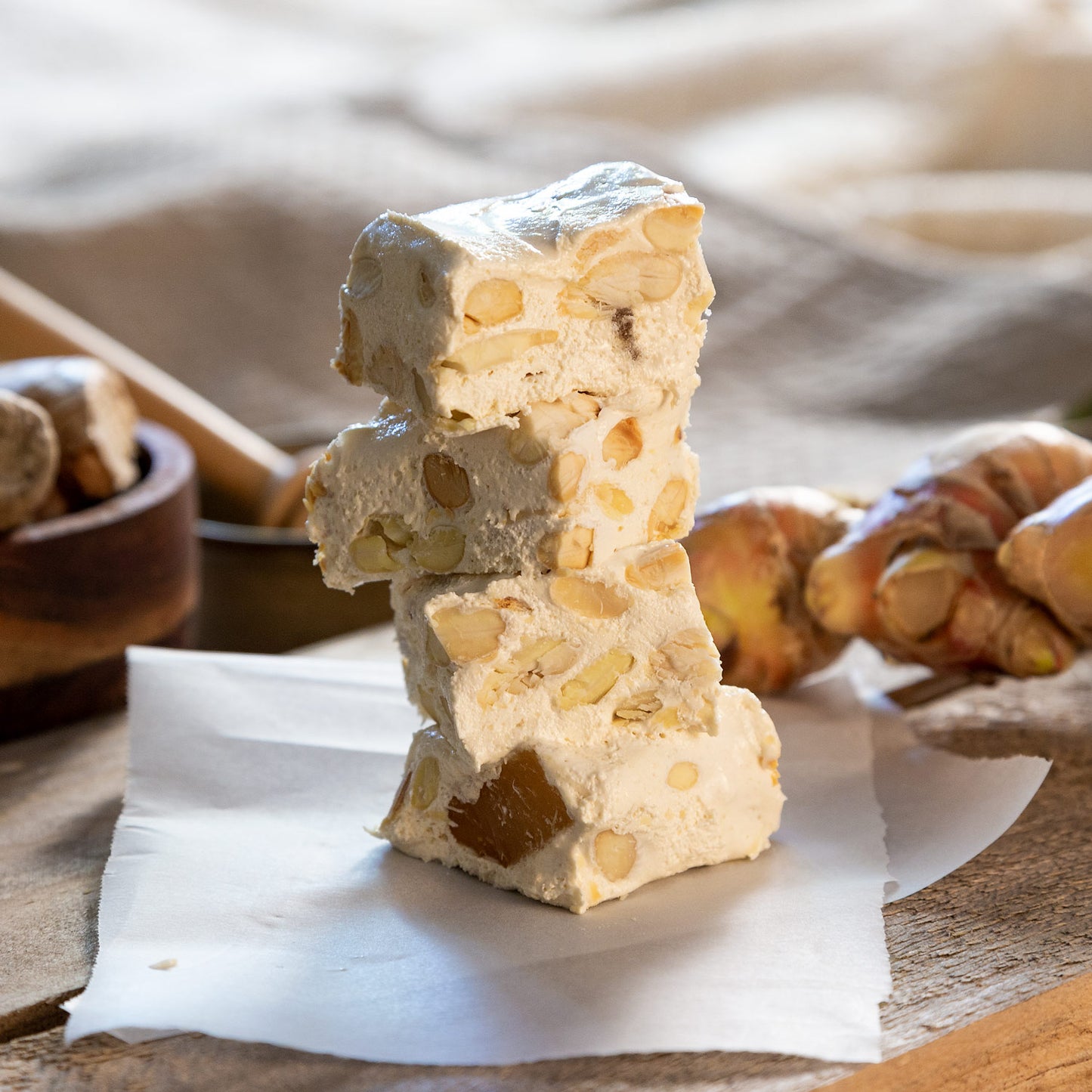 Artisan Honey Nougat
Making nougat takes patience to achieve all the complex flavours which make it so delightful - from slowly roasting the nuts, to the addition of delicate fragrant honey, spices, fruits and fine Belgian chocolate.
Our recipes are inspired by the traditions of the original artisans and we use our pure Tasmanian honey to create a range of Melita Honey Nougat that is unique and absolutely delicious.
The History of Nougat
The art of nougat making goes back centuries and has its origins in the small village bakeries of the nut growing regions of France, Spain, Italy and ancient Persia.
With such a diverse heritage nougat has evolved into many different styles and flavours - each reflecting the creativity, traditions and cultural diversity of the artisan and influenced by the unique flavours of the local ingredients.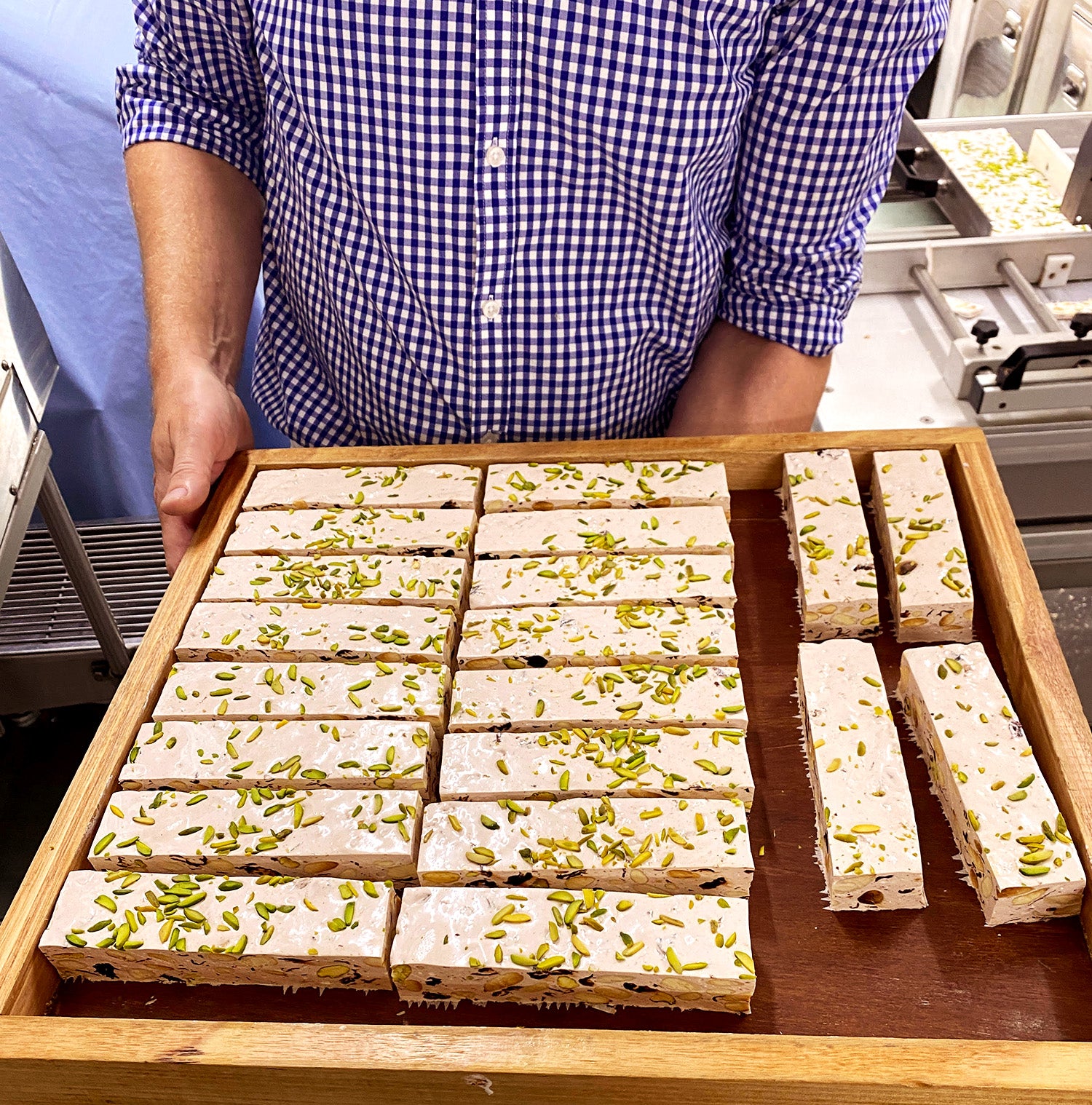 How we came up with the idea to make nougat...
Ever since Melita Honey Farm first opened its doors in 2001 we have been making honey ice cream. Our ice cream is made with fresh ingredients - including eggs. However we only use the yolks for making ice cream, so we ended up with large amounts of egg whites. Now there is only so much pavlova you can eat, and so much of our egg white went to waste.
On a trip to France in 2008 we were driving through Montélimar - a town famous for its artisan nougat producers. The penny had dropped... we now knew what we could do with our egg whites.
Returning to Tasmania we started making nougat - using our trusty Kenwood stand mixer and a pot on the stove. It wasn't long before word spread and our nougat became too popular to continue making it in such small quantities. We again travelled to Europe to buy a dedicated nougat cooker and cutter.
These aren't small pieces of equipment and so we needed to scale up our recipes. Now not all recipes scale well... and our nougat recipe was one of those. We went through much trial and effort to perfect our recipe... we had batches come out too soft, and too hard... these weren't small batches either... it was a frustating and painstaking process and we nearly gave up. But then we had invested in these pieces of equipment so we needed to succeed.
Eventually we hit just the right combination of time, heat, whipping speed and the rest is history.
8 Delicious Flavours to Try...
Lovely team
Wonderful products and highly recommend! so much to choose from :)
Choosing a selection results in a full page refresh.